Computer-Integrated Systems for Microscopy and Manipulation
| | |
| --- | --- |
| R. M. Taylor II, W. Robinett, V. L. Chi, F. P. Brooks Jr., W. V. Wright, R. S. Williams, E. J. Snyder, J. Chen, S. Okimoto, N. Llopis-Artime, M. Falvo, S. Paulson, P. Thiansathaporn, D. Glick, S. Washburn, R. Superfine, D. Jen, P. Parente, J. Robbins, C. Weigle, A. Burette, R. Weinberg, G. Varadhan, D. Erie | UNC Chapel Hill |
Published: October, 2009
Summary
Computer-Integrated Systems for Microscopy and Manipulation is an NIH/NIBIB National Research Resource at UNC Chapel Hill that uses interactive 3D computer graphics, haptics, and image analysis techniques to map the data and control from scientific instruments' native coordinate systems into the 3D space of the specimen, where the scientist most directly perceives and acts. We here present two of our tools, along with the scientific insights gained using each.
Nano Manipulator
The nanoManipulator (nM) system shown in the figure above provides a scientist with the ability to interact with objects as small as single molecules while quantitatively measuring both the surface shape and forces applied. The nM uses the ultra-sharp tip of an atomicforce microscope (AFM) as a tool both to scan and to modify samples. It uses advanced computer graphics to display the scanned surface to the user while a robot arm enables the user to feel and modify the surface
Insights achieved using Nano Manipulator
Use of the nM has enabled the science collaborators to produce more than two dozen publications, including high-profile papers in materials science and biomedical science. The nM was commercialized by 3rdTech and has been sold to laboratories across the U.S., Europe, and Asia, where it is used for research in materials and medicine (www.nanomanipulator.com). The multidisciplinary author lists (on both the visualization and science publications) indicate the level of intellectual involvement of the entire team. The science collaborators report that it has changed the way they do science: "The ability to rapidly explore hypotheses with immediate visual analysis of results led to fundamental new understanding in nanoscale bending and buckling and to the demonstration of atoms acting as gear teeth, atomic-lattice interlocking controlling how electrons flow between nanoscale parts, and nanoscale torsional coupling. Coupling the visualization into a direct-manipulation control system lets us perform pilot experiments in minutes that used to take days." – R. Superfine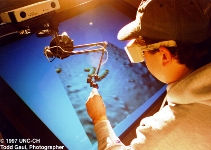 The nanoManipulator in its current most advanced configuration, with head-tracked, world aligned stereo and haptics
ImageSurfer
The ImageSurfer program was designed to display relationships between data sets in multi-fluorophore 3D confocal microscopy images. It includes several standard 3D visualization techniques: isosurface, direct volume rendering (DVR), maximumintensity projection (MIP) rendering. It also includes a custom colored isosurface technique to show correlation among two data sets, and dimensional-reduction tools (slice plane and spline) to enable quantitative analysis in user-selected subspaces of the data.
Fungipods Author: Aaron Neumann, Ken Jacobson's Lab, School of Medicine UNC-Chapel Hill
View over the lamella of a dendritic cell stained for F-actin (red) and bound to yeast particles (green). The bed of smaller (red) knobby/bubbly- looking objects on the bottom are podosomes, a specialized adhesive structure found in dendritic cells and macrophages among other cells.
Insights Achieved using ImageSurfer
ImageSurfer has been widely disseminated by them to the neuroscience community through publication, distributing CDs at annual conferences, and at www.imagesurfer.org. ImageSurfer has been downloaded by more than 4000 users since 2004, when it was first released as a free tool for biomedical researchers. It has become known among biomedical researchers as a useful tool for insights. As scientists around the world have used ImageSurfer to transition from 2D slice-based viewing to 3D viewing, they have discovered new insights into the structure of the Golgi apparatus of cortical pyramidal neurons, human breast cancer cells,actin/myosin molecular motors, and nano-fabricated devices.
Links