Lifelines2
| | |
| --- | --- |
| Taowei David Wang | Human-Computer Interaction Lab, University of Maryland |
| Catherine Plaisant | Human-Computer Interaction Lab, University of Maryland |
| Ben Shneiderman | Human-Computer Interaction Lab, University of Maryland |
Published: October, 2010
Summary of the Tool
Lifelines2 is a visualization tool designed for searching and browsing multiple temporal categorical records, such as electronic health records, student records, and web server logs. Lifelines2 provides a number of visual and interactive techniques for data exploration and analysis.
Summary of its Impact
The authors provide these following concrete examples of impact below.
Discovering Inconsistent Data
New visual analytics tools often allow users to immediately spot inconsistent data. Lifelines2 is no different. When searching for and exploring patients who experienced heparin-induced thrombocytopenia, our physician collaborators from the Washington Hospital Center discovered patients receiving medication after they have passed away. After close examination, the physicians found that these prescriptions all occurred within 24 hours after death. This lead them to believe that there is a delay in the medication database, and these cases are an artifact of the current electronic health record system. Because of this discovery, their subsequent analysis did not include the medication events in future analyses.
Discovery of Temporal Patterns
Administrators of the Children's Digital Library and researchers used Lifelines2 to analyze visitors' reading behavior. They collected one month worth of web server logs and performed initial analysis on the visits to one of the most popular books on the site. The administrators and the researchers discovered an interesting "back-paddling" visitation pattern of the book's pages. This finding prompted design questions for the web site's book reading interface. The researchers also discovered that many readers skip to the first page with text to begin reading. These discoveries allowed the definition of a Book Reading Session, which subsequently enabled the researchers to better quantify reading behavior and publish their results.
Finding Support for Hypotheses
1. Monitoring Academic Progress

The Department of Computer Science in the University of Maryland monitors graduate students' academic progress by keeping track of milestone events – courses completed, advancement to candidacy, degrees awarded, publication of papers, etc. One faculty hypothesized that students who taught as a teaching assistant for four or more semesters tended to advance to candidacy later. Using Lifelines2, he was able to confirm the hypothesis and determine that the difference was about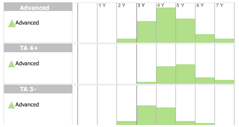 2. Monitoring Hospital Patient Transfers

Dr. Phuong Ho from the Washington Hospital Center used Lifelines2 to investigate unusual patient room transfer patterns. He found that there was no evidence that suggests potential insufficient triage, despite reported anecdotes. He was also able ascertain that percentage of patients who experienced premature release from higher-level care rooms to lower-level care is steadily low, and that no changes on how physicians decide when to release a patient to a lower-level care room were necessary.

3. Assess Impact of Hospital Protocol Change

Washington Hospital Center created a protocol based on years of medical evidence and physician experience on the situations when a patient is to receive Bi-level positive airway pressure (BiPAP) devices to help them breathe. It is hypothesized that the protocol change improved patient care. Dr. Ho used Lifelines2 to examine the impact on patient care by comparing the BiPAP failure rates (percentage of patients who needed escalated level of care after BiPAP had been applied) before and after the protocol change. He was able to ascertain a 30% reduction in the failure rate. While this result is preliminary, it is promising.


Links
Copyright of article and images belongs to the author or his employer unless otherwise mentioned